Ardija Squad 2008? Pt 2
After this article on the goalkeepers last week, Steve here continues his look at the current Squirrels squad and tries to forecast what will happen to each of the players at the end of the season: will they stay or will they go? Who will be playing for Omiya Ardija in 2008? This time he focuses on the defenders.

Yasuhiro Hato - I hope he goes and maybe his ego and past reputation might encourage him and an unsuspecting J1 team to pick him up. He was one of the major Satoru Sakuma signings of 2006 and repaid his (speculative) big contract by being a non-factor in 2006 and a key goat in 2007. To be fair, the past couple of games have seen an upturn in form for the beleaguered defender and the fire he showed in getting in Urawa keeper Ryota Tsuzuki's face after he pushed Naoto Sakurai in the back shows that there is a glimmer of heart in the Grinch that stole Soccer for Omiya fans. Either way, the Ardija front office must see that he is not a good return for their money - but I say there's a 40% chance of Hato staying if Omiya remain in J1, 10% if they drop to J2.

Daisuke Tomita - After the recent downturn in his play, it's more likely he might stick around. Was arguably the team's best player under Robert Verbeek, so he might be gone as well. However, he does show a lot of flexibility along the back line. I imagine his price tag is a bit lower due to his under-the-radar status. I'm inclined to say it's more than likely he stays: 65%-35%.




Daisuke Tomita and some Reds guy

Leandro - Not much of a thinker... he has good skills but a bad mind. Is no Toninho, who arguably wasn't much of a thinker either - but Leandro definitely does have some untapped skills. The assist for Hiroshi Morita against Reds was a brilliant play of the type that he has failed to produce at any other time during the season. Leandro's on a one-year loan and I'm not sure really if he'll come back... it depends on how cheap he is. I'd say there's a 30% chance of him staying.

Takuro Nishimura - He is the type of player that will be at home in J2, which is probably his level of competence - whether it's with Omiya remains to be seen. Again to be fair, the team has settled in the back with the older Nishimura in the line-up. Can be maddening to watch at times and he's not my favourite player by a long shot, but when he reacts and plays instead of over-thinking he can be dangerous driving along the wing. 50-50 he stays or goes.

Terukazu Tanaka, Haruki Nishimura, Akira Ishigame - Young and cheap. Tanaka has had a fairly tough experience of being a full-time fringe first-teamer. The last four games were especially important in showing that he is a young man who has a way to go to becoming a solid J1 starter. Nishimura is a project who hasn't been featured. Ishigame is a question mark because of the awful pre-season injury that effectively ended his 2007 campaign and possibly his career. Tanaka 100% will stay, Nishimura 95%, Ishigame... no verdict.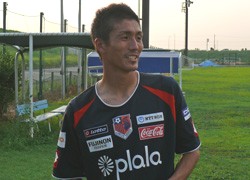 Yusuke Murayama ponders his future

Yusuke Murayama, Takashi Hirano - I think they were moves more geared for next year's drop... neither has what it takes for J1 and J2 seems more up their alley. The few moments I saw of both has me believing that Murayama is the one that has enough game to make an impact on future Omiya teams. Hirano looked dramatically over-matched in his brief spell against Kashiwa Reysol. Let's say Murayama is 50-50 depending on the rental / contract terms, whereas Hirano is unfortunately 65% staying... (maybe it's just rust).

Seiichiro Okuno, Yasunari Hiraoka - Two of the old veterans who have not really gotten any playing time at all this year. With the inclusion of youth team members in the satellite games, it looks like there is really no opportunity for the old war horses to get any action. Hiraoka was this close to getting the axe at the end of last season and Okuno has managed to get injured every time he has a shot at the first team. Okuno has a 30% chance of staying, Hiraoka 15% (unless he starts paying NTT - then it's probably 30%).

スポンサーサイト
【2007/09/07 00:26】 The Squirrel's Eye View | TRACKBACK(0) | COMMENT(0)