Omiya Ardija 2006 Squad - Midfielders
6. Jun Marques Davidson - 07 Jun 1986 - 186cm / 75kg

Half-Japanese half -American defensive midfielder. Debuted in 2003 by made a place in the first team his own last season. His start to 2005 was so impressively assured that there was even talk of possible international recognition, but Jun Marques Davidson seemed to fade as the campaign went on and the number of suspensions mounted up. Under pressure as a starting member following the arrival of Naoya Saeki and Yoshiyuki Kobayashi, this is the biggest season if his short career so far.




Jun Marques Davidson


7. Naoya Saeki - 18 Dec 1977 - 173cm / 66kg - NEW

One of the few bright spots in Kobe's dismal 2005 relegation season, Saeki is a thoughtful, creative defensive midfield player. Effective at breaking down opposition moves and looking to set up attacks with neat passing skills. Has impressed in pre-season and will add depth to the squad. In contention for a central spot with Marques and fellow new boy Yoshiyuki Kobayashi.




Naoya Saeki


8. Daigo Kobayashi - 19 Feb 1983 - 178cm / 70kg - NEW

Broke the hearts of Verdy fans when he opted to join Ardija following the Greens' relegation at the end of 2005. Former U21 international and something of a pin-up boy, it seems as if Daigo Kobayashi will be a crucial addition to Toshiya Miura's squad. Attacking midfielder always seeking to make the pinpoint killer pass, will vie with Chikara Fujimoto to take charge at set pieces. Tatsunori Hisanaga looks as though he may be the one to lose out long-term after his arrival.




Daigo Kobayashi


11. Chikara Fujimoto - 31 Oct 1977 - 168cm / 68kg

A key signing twelve months ago, Fujimoto moved from Kobe to bring flair and experience to Omiya's novice J1 team. Previously seemed to be somewhat drifting in his career, Chikara seized the opportunity offered by Miura to have his most successful campaign to date as a left-sided playmaker. Quick-thinking and with an accurate pass, while Fujimoto is undoubtedly one of the Squirrels' most important players, some fans nevertheless feel he could achieve more in terms of end product.




Chikara Fujimoto


15. Masato Saito - 01 Dec 1975 - 172cm / 65kg

Hard to imagine an Omiya squad without Masato Saito, with the club as an amateur since the JFL days of 1998 and still technically an NTT employee. Calm, reliable and a notably intelligent footballer, he may not have the profile of other squad members but can be counted on to do a composed job in the centre of midfield or the back four. Will doubtless make a good number of appearances from the subs' bench throughout the season.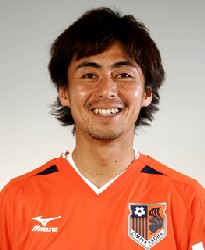 Masato Saito


16. Tatsunori Hisanaga - 23 Dec 1977 - 171cm / 64kg

Versatile player who over the last two seasons has appeared mainly on the right, although can also play a more defensive role in the middle of midfield. Miura opted to extend Hisanaga's loan deal from Fukuoka for 2006, apparently keen to retain someone he regards as a reliable operator. But he has rarely provided the attacking threat of Fujimoto on the other flank and his first-team opportunities will surely be limited following the strengthening of the midfield in the close season.




Tatsunori Hisanaga


24. Hayato Hashimoto - 15 Sep 1981 - 175cm / 63kg

Further squad player, now one of the youngest members of a distinctly mature Squirrels first team set-up. Attacking midfielder with one J1 appearance to his name, but retained for a third season despite the departure of comparable players who some fans felt had more to offer, such as Yusuke Shimada and Shota Suzuki. Injuires to other players may yet see Hayato Hashimoto have more of an opportunity to make an impact.




Hayato Hashimoto


32. Yoshiyuki Kobayashi - 27 Jan 1978 - 178cm / 71kg - NEW

Another potentially vital new signing for 2006. A Saitama boy and evidently keen to return to his roots following the relegation of Verdy, his hardworking willingness and versatility across the midfield give a further boost to the calibre of the squad, in an area of the pitch that was last year lacking in options and strength in depth.


Yoshiyuki Kobayashi
スポンサーサイト
【2006/03/11 08:17】 2006 Player Profiles | TRACKBACK(0) | COMMENT(0)