2008 Player Profiles - Defenders
2. Taishi Tsukamoto - 塚本 泰史 - 04 Jul 1985 - 177cm / 68kg - NEW

Local lad who attended Urawa Higashi High School. Highly-rated rookie defender who has signed for the Squirrels from Komazawa University, where he played mainly on the right-hand side. This means he's likely to be in competition with both Takuro Nishimura and Terukazu Tanaka, so it's perhaps unlikely that he will see many first-team starts. Could also fill in for Yasuhiro Hato on the left if needs be.




Taishi Tsukamoto


3. Leandro - レアンドロ - 18 Aug 1981 - 187cm / 83kg

Came to Omiya from Brazil a year ago to replace the departed Squirrels legend Toninho in the middle of the back four. Took a little time to adapt, but ended up slotting into the line-up alongside Daisuke Tomita as the backbone of Robert Verbeek's ultra-defensive side. Didn't score as many goals as Toninho, but his sensational bursts out of defence arguably saved Ardija from relegation, as Leandro chipped in with a vital assist in the defeat of Urawa and his never-to-be-forgotten winner at FC Tokyo.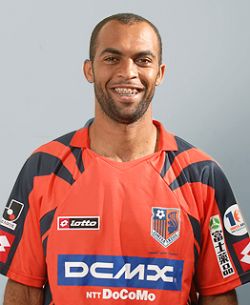 Leandro


4. Yasuhiro Hato - 波戸 康広. - 04 May 1976 - 178cm / 72kg

One-time Japanese international left-back who arrived from Kashiwa two years ago, although has picked up most of his experience with Marinos. There was talk during the close season of a transfer to Tokyo Verdy and most Squirrels fans would probably have been happy enough if Hato had moved - his commitment to the Ardija cause has generally seemed less than stellar, although he's been a regular ever since he joined Omiya.




Yasuhiro Hato


5. Daisuke Tomita - 冨田 大介 - 24 Apr 1977 - 180cm / 70kg

Not one of the stars of the team but Tomita has quietly picked up bags of experience with Mito Hollyhock and is now starting his fifth season with Ardija. Can play anywhere in defence and was previously left back, but in 2007 he formed a partnership in the middle with Leandro that was as responsible as any part of the team for keeping Omiya up. Difficult to imagine that this arrangement won't continue despite the arrival of Yasuhiro Higuchi as coach.




Daisuke Tomita


18. Takuro Nishimura - 西村 卓朗 - 15 Aug 1977 - 176cm / 68kg

Defender / midfielder who was first-choice right-back for most of 2007, although Terukazu Tanaka and later loan signing Yusuke Murayama on occasions kept Nishimura out of the starting line-up. Two sendings-off in crucial games towards the end of the season seemed to sour the former Urawa man's relationship with the fans and it was something of a surprise to see him kept on for another season. The number of alternatives available to Higuchi means that Nishimura will have to be at his best to keep ahead of the pack in 2008.




Takuro Nishimura


19. Yusuke Murayama - 村山 祐介 - 10 Jun 1981 - 180cm / 70kg

Utility defender signed by Satoru Sakuma under somewhat mysterious circumstances in mid-August 07 on a loan deal that was made permanent in the close season. Despite having been a player who was finding it hard to win a place in Shonan Bellmare's line-up, Murayama brought an assured presence and no little quality to the back four, either in the middle or on the right-hand side, from which he contributed a key assist in the win at Yokohama FC. A lively presence in the dressing room and a good squad player.




Yusuke Murayama


22. Terukazu Tanaka - 田中 輝和 - 14 Jul 1985 - 172cm / 66kg

One of the great enigmas of the Omiya Ardija squad, Tanaka famously appeared at international level for Japan U21 before having seen any first-team action at Omiya. Takuro Nishimura's patchy form during 2007 meant that he finally was selected by Robert Verbeek, but in all honestly didn't seem a better option. Unless Higuchi has notably different ideas, Tanaka seems destined to spend the majority of 2008 on the bench and it could be argued that a loan to a J2 side may have been more beneficial to his stalling career.




Terukazu Tanaka


26. Daiki Niwa - 丹羽 大輝 - 16 Jan 1986 - 180cm / 76kg - NEW LEFT 26 AUG 08 ON LOAN TO AVISPA FUKUOKA UNTIL 31 JAN 09

From Osaka and a player who came up through Gamba's youth system, Niwa made his J-League bow on a season-long loan at Tokushima Vortis. He emerged as a local star in the heart of the defence for the J2 minnows, one of the few bright spots in a difficult campaign during which he was almost an ever-present. Looks set to be the first reserve central defender behind Leandro and Daisuke Tomita.




Daiki Niwa


29. Tatsuya Kawahara - 川原 達也 - 16 Dec 1985 - 183cm / 79kg - NEW

Strong and commanding rookie central defender, has spent the last three years at Toyo University after having developed within Kashima Antlers' youth set-up.


Tatsuya Kawahara
スポンサーサイト
【2008/02/22 22:33】 2008 Player Profiles | TRACKBACK(0) | COMMENT(0)