スポンサーサイト
上記の広告は1ヶ月以上更新のないブログに表示されています。
新しい記事を書く事で広告が消せます。
【--/--/-- --:--】 スポンサー広告
6108's A Crowd
The average home crowd figures for each of the J-League teams during the 2004 season make for pretty interesting reading:

J1

Albirex Niigata - 37,689
Urawa Reds - 36,660
FC Tokyo - 25,438
Yokohama F Marinos - 24,818
Oita Trinita - 21,889
Kashima Antlers - 17,585
Jubilo Iwata - 17,126
Vissel Kobe - 15,735
Nagoya Grampus 8 - 15,712
Tokyo Verdy 1969 - 15,059
Sanfrecce Hiroshima - 14,800
Cerezo Osaka - 14,323
Shimizu S-Pulse - 13,568
Gamba Osaka - 12,517
Kashiwa Reysol - 10,513
JEF United Ichihara - 10,012

J2

Vegalta Sendai - 16,198
Consadole Sapporo - 9,466
Kawasaki Frontale - 9,148
Avispa Fukuoka - 8,743
Kyoto Purple Sanga - 7,807
Montedio Yamagata - 6,420
Ventforet Kofu - 6,370
Omiya Ardija - 6,108
Shonan Bellmare - 4,691
Yokohama FC - 4,219
Mito Hollyhock - 3,773
Sagan Tosu - 3,610

The first thing as far as Omiya Ardija supporters are concerned that leaps out from such a list is what an astonishing achievement it is for The Mighty Squirrels to have made it in to J1, when only four clubs in the country have lower levels of support. It also underlines the fact that, from a financial point of view, they'll be extremely handicapped when it comes to competing with other teams, being far less well-supported than even the notorious JEF United. Conversely, though, the Omiya club management will look back at their early days as members of the fledgling J2 in 1999 - when average crowds were only a third of what they are now.

They will be quietly satisfied that the measures they've put in place to attract support to Omiya in the shadow of Urawa (pricing policy, kids' soccer schools, etc.) have been genuinely successful. But there must still be frustration that games staged at the club's real home stadium, Omiya Koen, usually attract lower crowds than those at the huge Saitama Stadium. It remains to be seen what will happen when Omiya Koen - built for the Tokyo 1964 Olympic football tournament and now somewhat on the shabby side - undergoes its forthcoming redevelopment.


スポンサーサイト
【2005/02/28 15:31】 2005 News In Brief | TRACKBACK(0) | COMMENT(0)
Omiya Crash In Extra Friendly
Omiya Ardija took part in a hurriedly-arranged away friendly on Saturday 26th February against JEF United - and their dispiriting run of pre-season results continued. The match was scoreless at half-time, but JEF went on to run out 3-0 winners. Not for the first time, somewhat mysteriously, the two clubs insisted on the line-ups and scorers not being reported in the media.
Following on from the squad's training work on attacking tactics, Omiya's first half performance was positive, with some neat interpassing without ever genuinely threatening the JEF goal.

Toshiya Miura acknowledged that, when approaching the opposition penalty area, the quality of the final ball was frustratingly lacking. He also admitted that his team had gone to sleep for twenty minutes in the second half, when three individual mistakes led to the three goals. The first came on 64 minutes, the second was from a 71st-minute free-kick and the third came about as a result of the Omiya defence being caught out by a long ball. One necessarily anonymous Omiya player was quoted afterwards as saying that the he and his team-mates would be concentrating hard in training on eliminating unnecessary errors - and that's only one area of their game where they need to improve. Because Gamba Osaka is now less than a week away.

【2005/02/27 02:20】 2005 News In Brief | TRACKBACK(0) | COMMENT(0)
The Countdown Continues...
On Thursday 24th February, the Omiya Ardija squad entered the final phase of their pre-season preparations, back at their Shiki City training headquarters following the return from the camp on Kyushu. With only ten days to go before the opening game of the J1 campaign against Gamba Osaka, the players took part in strength and stamina exercises as well as a series of five-a-side mini-games.
Coach Toshiya Miura was keen to see a competitive edge to the players:

"We're working now with a main squad of around eighteen, and the team for the Gamba game will be selected from those who are in good shape. We'll be looking to ascertain who those players are by keeping things simple, regular and organised over the next few days". There's no doubt that the Miyazaki camp raised a few question marks over the Omiya attacking strategy and Miura went on to explain that the practice sessions would also be concentrating on developing counter-attacks and set plays.

【2005/02/25 17:55】 2005 News In Brief | TRACKBACK(0) | COMMENT(0)
Omiya Slump To Friendly Defeat
Omiya Ardija lost the final practice game of their Miyazaki training camp on Tuesday 22 February, going down to a single goal in the 20th minute of the match against ambitious J2 newcomers Thespa Kusatsu. The score came from a quick break following an Omiya corner that broke down, and means that Omiya have now failed to win either of their two friendlies against J2 teams, as they look to make the move up to J1 in the forthcoming season.

Omiya played the first half with the following line-up:

GK Aratani
DF Mikami
DF Hiraoka
DF Okuno
DF Tomita
MF Fujimoto
MF Kanazawa
MF Saito
MF Ando
FW Christian
FW Sakurai

Coach Toshiya Miura - who after the game said that the team's lack of movement was down to "tiredness, after a long hard seven days of training" - then fielded the following line-up for the second half:

GK Takagi
DF Ishigame
DF Tanaka
DF Kataoka
DF Nishimura
MF Hisanaga
MF Shimada
MF Osawa
MF Suzuki
FW Tuto
FW Yokoyama

The main point of interest for Omiya fans was the longest performance in an orange shirt so far for Christian, who - despite having clear problems of communication with his team-mates - nevertheless caused difficulties for the Kusatsu defence with his heading and dribbling, as well as hitting the post with a shot. The word coming out of the Mighty Squirrels' camp was that the purpose of the game was to improve match fitness rather than to achieve a particular result, but the first half performance generally was sluggish, with poor passing and a lack of creativity in midfield.The squad have now returned to Saitama and will continue their preparations for the J1 campaign at the main NTT training ground in Shiki City on Thursday 24 February.

【2005/02/22 20:59】 2005 News In Brief | TRACKBACK(0) | COMMENT(0)
Sakurai Scores Two More But Ardija Only Draw
Omiya Ardija completed the third practice match of their Miyazaki pre-season training camp on Sunday 20 February, a 2-2 draw with J2 favourites Vegalta Sendai. The game was played over three stages to provide both sides with more opportunity for match practice, the normal two 45-minute periods then being followed by a further 35 minutes. Sendai took a 20th-minute lead through Brazilian striker Schwenck before two goals from Naoto Sakurai - on 38 and 66 minutes - put Omiya ahead. Koji Matsuura then equalised for Sendai two minutes before the end of the third period.

Coach Toshiya Miura experimented with a large number of substitutions throughout the 125 minutes of play. The Omiya team started the match with the following line-up, those players in brackets coming on as substitutes midway through the second period:

GK Aratani
DF Tomita
DF Okuno (Mikami)
DF Toninho
DF Nishimura (Saito)
MF Hisanaga
MF Kanazawa
MF Marques (Shimada)
MF Fujimoto (Ando)
FW Morita
FW Sakurai (Suzuki)

Further changes at the end of the regular 90 minutes meant the following team took to the field for the extra 35 minutes:

GK Ando
DF Mikami
DF Kataoka
DF Tanaka
DF Saito
MF Hashimoto
MF Shimada
MF Ando
MF Yokoyama
FW Tuto
FW Christian

After the game, Sakurai pronounced himself "satisfied" with having picked up another two goals this early in his career with Omiya, given that he also scored against his previous club Tokyo Verdy 1969 whilst at the Guam training camp earlier in the month. He also commented that he felt that the team's communication was improving as they played and trained together more, but goalkeeper Hiroki Aratani sounded a note of caution when he acknowledged that it would be necessary to be prepared to play against faster and more skilful strikers in J1. And there's now less than two weeks to go before the big kick-off...

【2005/02/21 07:28】 2005 News In Brief | TRACKBACK(0) | COMMENT(0)
Omiya Ardija In Friendly Win
Omiya Ardija continued their pre-season warm-up in Miyazaki on Friday 18th February in impressive fashion with a 1-0 win over K-League giants Seongnam Ilhwa Chunma, who were ranked the second club side in Asia in 2004. It was some distance from being Chunma's full-strength side, but Omiya defended well and displayed their characteristic good organisation when under pressure. New signings Chikara Fujimoto and Naoto Sakurai also caused problems for the Korean back line, but the goal came just before the hour mark when Masahiro Ando crossed from the right-hand side and striker Hiroshi Morita was fouled as he challenged for the ball. Morita himself converted the resulting spot kick.

【2005/02/19 07:34】 2005 Player Profiles | TRACKBACK(0) | COMMENT(0)
Omiya Ardija: Miyazaki Camp Report
After travelling down to Saito City in Miyazaki prefecture for the second of their pre-season training camps, the Omiya Ardija squad had the pressure turned on them by coach Toshiya Miura. "This is a really important week for the players," he said. "As well as the four practice games, we'll be doing a lot of physical preparation and also tactical work."

Midfielder Shin Kanazawa said that Miura had told the players that the team to start the season against Gamba Osaka would be decided by performances at the camp: "Because everyone wants to get into the first team, everyone's committed to doing their best while we're in Miyazaki". On Wednesday 17 February - the day after their arrival on Kyushu - Omiya played out a quiet 0-0 draw in the first practice game of the trip, against a Japan U-20 XI.

【2005/02/18 06:44】 2005 News In Brief | TRACKBACK(0) | COMMENT(0)
Introducing Omiya Ardija's Forwards


Over the last few days on Go! Go! Omiya Ardija, we've taken a look at the club's signings during the close season, the goalkeepers, defenders and midfielders. To round off the series of profiles, it's today the turn of the forwards to take centre stage alongside Christian [above] and Naoto Sakurai.




Squad no. 10 is Tuto [above], one of Omiya's three Brazilian players. Now 26, Tuto first came to Japan in 1998 and he immediately enjoyed two successful years with Kawasaki Frontale. In 2000 he stepped up to J1 with FC Tokyo and continued his good form, with seventeen goals in 29 matches. A two-year spell at Urawa Reds then followed before a move to Shimizu S-Pulse. Tuto then moved to Omiya during 2004. He's now scored 65 goals in 150 J-League games.




Also 26 is Hiroshi Morita and, like Tuto, he came to Omiya mid-way through the 2004 season. His pro career began with Sagan Tosu in J2 in 2001, where he scored 19 goals in two years before moving to Albirex Niigata. Morita's squad no. is 14 and his J-League stats read played 109, scored 34.




Satoshi Yokoyama has just turned 25 and has now spent all four years of his pro career with Omiya, despite the less-than-impressive scoring record of played 75, scored 11. His squad no. for 2005 will be 27.




The squad is made up by no. 26, the tiny Tomoya Osawa, who actually made his single J-League appearance at the end of 2003 a few days before his 19th birthday.

【2005/02/16 07:51】 2005 Player Profiles | TRACKBACK(0) | COMMENT(0)
Omiya Ardija: Guam Camp Final Report
The Omiya Ardija squad and staff returned to Japan on Saturday, following their eleven-day training camp on Guam. Coach Toshiya Miura commented that the priorities were to incorporate the new players into the squad and to help them understand how the team is to play. "The style of defence will be the same as last season, but the teams's attack will be looking to use the strengths of the new players," he said. "I'm pleased with the players' performances and I've learned some new things as well. The important thing at this stage is to learn rather than just win the practice games."

Brazilian defender Toninho agreed, citing the example of poor communication being a problem in the defeat against Oita, "... but everyone recognised that this aspect of our performance wasn't good enough, so it's obvious to us all that we need to do it better."
Miura went on to say that the squad was - in a positive sense - a little on edge throughout the camp, because none of the players know what the first team line-up will be come the first game at Gamba Osaka on 05 March. Until that time, though, preparations continue with a couple of days' training at the club's main practice ground at Shiki City, before heading down to Miyazaki for a further week's camp and four more friendlies prior to the big J1 kick-off. And there's now less than three weeks to go...

【2005/02/14 02:48】 2005 News In Brief | TRACKBACK(0) | COMMENT(0)
Omiya Ardija Claim Friendly Win
In the second and last of the practice friendlies staged as part of their pre-season training camp on Guam, Omiya Ardija beat Tokyo Verdy 1969 2-1 on Friday afternoon.The first scorer was Omiya's close-season signing from Verdy, Naoto Sakurai, on 39 minutes, while young midfielder Shota Suzuki made it 2-0 eighteen minutes into the second half. Osvaldo Ardiles' side pulled a goal back from the penalty spot three minutes later, but the fact that Omiya were at a more advanced stage of their preparation was clear throughout the game and they held on to win. The Omiya party now return to Saitama on Saturday 12th.

【2005/02/11 23:34】 2005 News In Brief | TRACKBACK(0) | COMMENT(0)
Introducing Omiya Ardija's Midfielders


With Omiya Ardija announcing that midfielder Tetsuhiro Kina is leaving the club to join Avispa Fukuoka, it seems appropriate for Go! Go! Omiya Ardija to provide an overview of the club's squad for the forthcoming season - so who has Kina left behind to fight for the midfield berths?

Masahiro Ando [above] is, at 32 years of age, one of the most important and experienced members of the Omiya Ardija squad. Now in his third spell with the club, he's actually spent time with no fewer than seven different J-League teams, having started his professional career with Shimizu S-Pulse in 1995. Part way through the 1999 season he moved on to S-Pulse's local rivals Jubilo Iwata and since then has appeared for at least one other team every year, turning out for Yokohama F Marinos, Gamba Osaka, Vegalta Sendai and Kyoto Purple Sanga in between his return trips to Omiya. Ando's now played 267 J-League games and scored 14 goals. His squad no. is 8.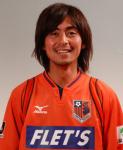 At 29, Masato Saito is more or less a one-club player, having moved to Omiya from university in 1998, their final season in the JFL. The only amateur member of the squad during 2004, he nevertheless missed only one game and has now played 191 J-League games, scoring ten goals. His squad no. is 15.




Tatsunori Hisanaga is about to begin his second season with Omiya in 2005, having slotted straight into the first team last year after a loan move from Avispa Fukuoka. Indeed, the 27-year-old has in fact spent almost all of his pro career with Avispa aside from a spell with Yokohama F Marinos in 2002. His squad no. will be 16, he's played 185 J-League games and scored twelve goals.




21-year-old Tokyo-born Jun Marques Davidson came into his own as a valuable squad member last season, appearing in more than a third of the team's J-League games and demonstrating considerable improvement in what was his third year with the club. It's questionable as to whether he'll make the push to being a regular, as competition for places will be tight, but Davidson definitely has a role to play for Omiya in 2005. His squad no. will be 6 and his J-League stats now read played 24, scored one.




A product of the Omiya Ardija youth system and a local boy, Shin Kanazawa is 21 and one of the younger members of the team, having become a regular performer for the first XI in 2004. He originally made an impact in his first year as a squad member in 2002, when he managed to appear in 28 games. He'll have the no. 7 shirt and has so far played an unusually high total of 76 J-League games, scoring five goals.




Another locally-born player, Yusuke Shimada is already at 23 looking ahead to his sixth season at the club. he made his debut as a 19-year-old at the end of 2001, but over the last couple of years has become more established. He has now scored five goals in 54 J-League appearances and will take squad no. 17.




The fringe squad players are 23-year-old Hayato Hashimoto (squad no. 24, top), who moved to Omiya from university before the 2004 season but saw no first-team action; and Shota Suzuki, 20,(squad no. 23, bottom), who made his debut in 2003 as an eighteen-year-old but did not figure last year.

【2005/02/11 08:37】 2005 Player Profiles | TRACKBACK(0) | COMMENT(0)
Oita Friendly Mystery
Omiya Ardija fans will have had on eye on 09 February as a significant day for quite some time, because the Mighty Squirrels played their first pre-season friendly of the J1 era. The match was played as part of the squad's continuing training schedule on the island of Guam and led to a 2-1 defeat at the hands of Oita Trinita. But there the information trail at present ends, the club's website describing the line-up and scorer as being "a secret".

【2005/02/10 01:14】 2005 News In Brief | TRACKBACK(0) | COMMENT(0)
Introducing Omiya Ardija's Defenders


After taking a look at Omiya Ardija's goalkeepers, it's time to introduce the club's defenders, starting with an ever-present from last season, Seiichiro Okuno. A 29-year-old central defender, Okuno has been a rock at the heart of Omiya's defence for six years and more - indeed, he signed for Ardija during 1998, the last the club played in the old JFL. As a youngster, he had earlier spent six years learning his trade with Yokohama Flugels. Number 2 in the squad, Okuno has played 246 J-League games and scored seven goals.




Okuno's partner in central defence for the last four years has been Toninho, a big 27-year-old from Brazil. Previously with Mirasol, Corinthians Paulista and Atletico Juventus in his home country, Toni moved to Omiya for the 2001 season and has been with the club ever since. His J-League stats are played 160, scored 11; his squad no. is 4.




The third reason for Omiya's settled defensive performances in 2004 is left-back Daisuke Tomita, who missed only one game throughout what was his first season in Saitama. Transferred from fellow J2 side Mito Hollyhock, 27-year-old Tomita spent four years as a regular starting member of their side, having moved from his university team prior to the 2000 season. In only five years as a pro, his J-League stats read played 189, scored 13. His squad no. will be 5.




Another graduate of the Kokushikan University side, it seems possible that Takuro Nishimura will start the season as first-choice right back for Omiya. After finishing university, he spent three-and-a-half years with Urawa Reds without making a breakthrough into the first team, before moving to Omiya during 2004. The 27-year-old will take squad no. 18, and he's played fifteen J-League games without scoring a goal.




He with the smart hairstyle, Yasunari Hiraoka will turn 33 just after the start of the season. A journeyman defender, he started his career with Otsuka Pharmaceuticals / Tokushima Vortis in the JFL before moving into the professional game proper with Kyoto Purple Sanga in 1997. Oita was his next destination for two years in J2 and then Hiraoka spent four years as a squad player at Nagoya Grampus 8. 2005 will be his second season with Omiya, where his squad no, is 13. He's scored three times in 118 J-League games.




Younger members of the squad hoping to make their J-League debuts are Terukazu Tanaka [top], squad no. 25, a 19-year-old who joined Omiya from high school; cheeky-faced young scamp Masateru Tsujita [middle], 20 years old and squad no. 28; and Akira Ishigame [bottom], also 20, squad no. 29.

【2005/02/08 07:58】 2005 Player Profiles | TRACKBACK(0) | COMMENT(0)
Introducing Omiya Ardija's Goalkeepers
Following Go! Go! Omiya Ardija's coverage of the arrival of Christian and an introduction of the club's four new Japanese players, the next few days will see further pieces on the blog to introduce the whole squad to new fans and a wider audience. Today it's the turn of the four goalkeepers:




Hiroki Aratani is 29 and after a career spent seemingly on the sidelines, he burst on to the scene to become Omiya's first choice keeper during last season. On leaving school, he joined Urawa Reds but was unable to make a real impression there in four years and so opted to drop down to the JFL and join Kawasaki Frontale in 1998. Omiya then signed the 192cm tall Aratani the following year and he eventually made his debut in the 2002 season. He's gone to play 39 J-League games and has a squad number of 20.




29-year-old Tomoyasu Ando is Omiya Ardija's second-choice goalkeeper. A native of Shizuoka prefecture, he played for his local college side before signing for Urawa Reds in 1997 and making his J-League debut during a short spell that same year with Avispa Fukuoka. He then spent five years as a squad player with Urawa, moving the short distance to Omiya in 2002 to pick up more first-team experience. He's now played 70 J-League games and his squad number is 1.




The club's two young reserve keepers are 22-year-old Takahiro Takagi (above; squad no. 21) and 21-year-old Kenji Tanaka (squad no. 22). Takagi joined JEF United as a teenager and then signed for ambitious regional league side Thespa Kusatsu during 2003, before joining Omiya at the start of 2004. Tanaka moved to Omiya at a similar time and neither have yet made an appearance for the first team.

【2005/02/07 01:51】 2005 Player Profiles | TRACKBACK(0) | COMMENT(0)
Omiya Ardija: Training Camp Report
The Omiya Ardija players have been hard at work preparing for their first year in J1 at pre-season training camp on the American-owned Pacific island of Guam, a destination more normally associated with Japanese tourists. Ahead of their first friendly match on Wednesday against Oita Trinita, manager Toshiya Miura and his coaching staff have been giving the squad a tough work-out, with time spent on fitness levels as well as ball skills, tactics and organisation. There have been many comments from the players about how unexpectedly demanding the schedule has been - although midfielder Jun Marques Davidson claimed to be enjoying himself - with no let-up in intensity despite poor weather. Away from the training field, the Omiya party also attended a reception with the Guam Football Association.

【2005/02/06 05:51】 2005 News In Brief | TRACKBACK(0) | COMMENT(0)
Introducing Omiya Ardija's Four New Japanese Players


Local boy Naoto Sakurai is a useful 29-year-old forward with good close control and passing ability who's signed for Omiya from Tokyo Verdy 1969. He began his career with Urawa Reds and made his J-League debut in 1995, making only occasional appearances before moving to Verdy Kawasaki during the 1999 season. Staying with Verdy following the move to Tokyo prior to the 2001 campaign, Sakurai became more of a regular but has ultimately found himself squeezed out of the starting line-up. His career J-League record is 136 games played with 23 goals scored, and he'll take squad no. 30.




Yosuke Kataoka has moved from Kokushikan University in the JFL, a 22-year-old defender yet to make his J-League debut. His squad no. is 19.




Chikara Fujimoto is an attacking midfield player, now aged 27, who made one appearance for the national team as a substitute under Philippe Troussier. He spent 2004 on loan at Vissel Kobe from Nagoya Grampus 8, having previously played for four years at Sanfrecce Hiroshima. His career started in 1996 with Avispa Fukuoka and his J-League figures read played 195, scored 29. Fujimoto will take squad no. 11.




Kazuyoshi Mikami, now 29, has experienced an erratic career and his move to Omiya sees him sign on the dotted line for a sixth club. He turned out most frequently just after turning pro in 1998 with Vissel Kobe and then with Verdy Kawasaki, before moving on to JEF United and Yokohama F Marinos. Mikami has played 115 J-League games and scored a single goal. His squad no. will be 3.

【2005/02/04 07:35】 2005 Player Profiles | TRACKBACK(0) | COMMENT(0)
Bare On The Move
His old team-mates now arrived at their training camp on Guam, former Omiya Ardija striker Bare has confirmed a move to J2 side Ventforet Kofu. Scorer of fifty goals in 114 league games over three years for Omiya, there is debate among fans over whether Bare's Uruguayan club Montevideo Wanderers would not agree a permanent move to Omiya - so his loan contract simply expired at the end of the 2004 season - or whether Omiya chose not either to extend the loan deal or make a bid for a permanent transfer.

The former seems unlikely, given that he has reportedly been sold to Kofu. Whatever the truth of the situation surrounding the end of his time with Omiya, though, Bare was a good servant to the club and deserves the best wishes of all fans of The Mighty Squirrels as he enters a new phase of his career.

【2005/02/03 02:17】 2005 News In Brief | TRACKBACK(0) | COMMENT(0)
| BLOG TOP |