スポンサーサイト
上記の広告は1ヶ月以上更新のないブログに表示されています。
新しい記事を書く事で広告が消せます。
【--/--/-- --:--】 スポンサー広告
2008 Player Profiles - Forwards
9. Kota Yoshihara - 吉原 宏太 - 02 Feb 1978 - 170cm / 66kg

The former Gamba and Sapporo striker moved to Omiya two years ago and has yet to convince that he can get the goals which the Squirrels so desperately need. 2006 was a disaster for Yoshihara, who picked up an injury pre-season and ended up making only a handful of starts in the latter stages of the campaign. Last year raised questions about his attitude and although he did end up as top scorer, the one-time international found the net only five times. Nevertheless looks set to begin 2008 as a first-team starter.




Kota Yoshihara


10. Denis Marques - デニス・マルケス - 22 Feb 1981 - 183cm / 74kg

Signed for the Squirrels from Atletico Paranaense on a year's contract during the 2007 mid-season break. Performed well enough, is a clear talent and on occasions carved open opposition defences with jinking runs and insightful passing - but scored only twice, one of which was a penalty. Although arguably the most skilful player on the club's books, indications are that Denis may well end up on the subs' bench behind Kota Yoshihara and Pedro Junior.




Denis Marques


13. Pedro Junior - ペドロ ジュニオール - 29 Jan 1987 - 182cm / 73kg LEFT 01 JUL 08 ON LOAN TO VILA NOVA UNTIL 31 DEC 08

Brazilian striker signed in mid-August 07. Made a handful of appearances, but seemed out of his depth and unable to make an impact in a side struggling to avoid relegation. Video evidence from his native country would nevertheless suggest Pedro has energy, pace and even - shock - an eye for goal. It would appear from pre-season that coach Yasuhiro Higuchi is giving strong consideration to the idea of starting with Pedro in the team and the youngster has set himself a target of fifteen goals in the year.




Pedro Junior


14. Hiroshi Morita - 森田 浩史 - 18 May 1978 - 188cm / 78kg

Since originally coming to Omiya from Niigata during the 2004 season has scored some vital goals, but always seems to offer too many examples of his limitations for the liking of many Ardija fans. Gets frustratingly few goals with his head for such a tall player and also poor at holding up play as a target man. Has been selected bewilderingly often by coaches Toshiya Miura, Robert Verbeek and Satoru Sakuma, but - at last - would appear to be heading for a year as a substitute.




Hiroshi Morita


16. Klemen Lavric - クレメン ラフリッチ - 12 Jun 1981 - 190cm / 80kg - JOINED 01 JUL 08

Slovenian international who moved to Omiya from German outfit MSV Duisburg in mid-2008, with a contract until the end of the calendar year. A replacement for the departed Pedro Junior, Lavric looks set to offer a real alternative up front as a big, strong centre forward, somewhat akin to 2007 transfer target John Aloisi. Interesting to see how he will tie up with the likes of Denis Marques and Kota Yoshihara.




Klemen Lavric


27. Masahiko Ichikawa - 市川 雅彦 - 17 Sep 1985 - 168cm / 68kg - NEW

Diminutive new forward signed along with midfielder Kohei Tokita from Hosei University. Looks set to be a reserve, but after the disaster of 2007 there is pressure on all the Squirrels' strikers to get goals when chances come along.




Masahiko Ichikawa


30. Naoto Sakurai - 桜井 直人 - 02 Sep 1975 - 170cm / 65kg

Brought from Verdy three years ago, like Chikara Fujimoto coming to the club to offer some top flight experience to the then J1 rookie Squirrels. An immediate hit, scoring the 2005 opener to set up a win at Gamba, the speedy Sakurai has subsequently had an injury-affected time with Omiya that has greatly restricted his contribution. Tends to shine in bigger games, but on the other hand can go missing when Ardija's under-pressure defence need reliable attacking outlets.




Naoto Sakurai


35. Daisuke Watabe - 渡部 大輔 - 19 Apr 1989 - 170cm / 67kg - NEW

Rookie forward promoted from Omiya's successful 2007 youth team, for which he was top scorer. A pre-season foot injury will unfortunately keep Watabe out of contention during the early weeks of the 2008 season.


Daisuke Watabe
スポンサーサイト
【2008/03/06 06:56】 2008 Player Profiles | TRACKBACK(0) | COMMENT(4)
2008 Player Profiles - Midfielders
6. Yosuke Kataoka - 片岡 洋介 - 26 May 1982 - 179cm / 73kg

Got off to a dreadful start to the 2007 season when his mistake led to Bare stealing a late winner in the opening game at Gamba Osaka - and never seemed to recover from that. Still was able to hang on to his place in the starting line-up alongside Yoshiyuki Kobayashi in the centre of midfield, but fans would argue that the ex-Kokushikan University student proved to be a weak link. Nevertheless appears likely to continue as a first teamer in 2008.




Yosuke Kataoka


7. Naoya Saeki - 佐伯 直哉 - 18 Dec 1977 - 173cm / 66kg

Has had what amounts to a stop / stop career since moving to Omiya prior to the 2006 season, when defensive midfielder Saeki took a loan deal at Avispa Fukuoka in order to pick up some playing time. Was a bit luckier last year and did actually turn out for the Squirrels in 17 league matches, but he has been conspicuous by his absence in pre-season and one must therefore assume that an unexplained injury is playing its part in Saeki being on the sidelines yet again.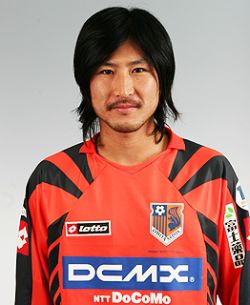 Naoya Saeki


8. Daigo Kobayashi - 小林 大悟 - 19 Feb 1983 - 178cm / 70kg

Attacking midfielder always seeking to make the pinpoint killer pass, in 2006 was the team's main attacking option as the strikers themselves failed to take responsibility and Chikara Fujimoto had an injury-hit season. Became the club's first-ever full Japanese international and thus guaranteed legendary status, but Daigo himself was struck down by a niggling back injury in 2007 and he was half the player as a result. Squirrels supporters will be hoping that this year sees a return to fitness and form for the most talented player at the club.




Daigo Kobayashi


11. Chikara Fujimoto - 藤本 主税 - 31 Oct 1977 - 168cm / 68kg

Made 2007 captain by coach Robert Verbeek, left-sided midfield man Fujimoto had more responsibility on his shoulders than in his previous two years at the club - and turned out to be perhaps the biggest let-down of the squad's senior players. A desperately disappointing campaign saw him chip in with barely one assist and two goals, a lack of contribution made all the more significant due to Daigo Kobayashi's injury. No longer captain and it's hoped that Chikara will have greater freedom to express himself as a consequence.




Chikara Fujimoto


15. Masato Saito - 斉藤 雅人 - 01 Dec 1975 - 172cm / 65kg

Hard to imagine an Omiya squad without Saito, with the club as an amateur since the JFL days of 1998 and still technically an NTT employee. Calm, reliable and a notably intelligent footballer, he may not have the profile of other squad members but can be counted on to do a composed job in the centre of midfield or the back four. Will doubtless make a good number of appearances as a starting member or from the subs' bench throughout the season.




Masato Saito


17. Hayato Hashimoto - 橋本 早十 - 15 Sep 1981 - 175cm / 63kg

Hashimoto was first given a run in the side in late 2006 thanks mainly to Chikara Fujimoto's injury. Left-sided midfield player with a good cross and a fine line in free kicks, he actually emerged as one of the stars of the season and more or less forced then boss Toshiya Miura into keeping him in the side after the recovery of Fujimoto. But Hashimoto slipped out of contention last year and was clearly lacking in confidence when he did get first-team playing time. Pre-season friendlies would indicate he's not likely to feature too much in 2008, either.




Hayato Hashimoto


23. Shin Kanazawa - 金澤 慎 - 09 Sep 1983 - 174cm / 67kg

Popular with the fans, having made his way through the Omiya youth set-up and then turning out for the first team between 2002 and 2005, Kanazawa now returns to the club after two years on loan at Verdy. A central midfielder who played a key role in the Squirrels' 2004 promotion campaign, he will potentially see action this time around when the likes of Yoshiyuki Kobayashi and Masato Saito are unavailable.




Shin Kanazawa


24. Takaya Kawanabe - 川辺 隆弥 - 22 Dec 1988 - 174cm / 62kg

A rookie in 2007, promoted from Omiya Youth. Kawanabe went on to make just one first-team appearance in the Nabisco Cup and unsurprisingly appeared nervous playing in a side short on confidence. Whether he can fight for a place following the arrival of U19 international star Takuya Aoki remains to be seen.




Takaya Kawanabe


25. Tomoya Uchida - 内田 智也 - 10 Jul 1983 - 166cm / 58kg - NEW

A central or right-sided midfield player who joins from Yokohama FC, Uchida is Ardija's chief signing over the winter. Impressive in pre-season, he provides some flexibility by allowing star man Daigo Kobayashi to play in the middle for a more creative and attacking approach. He might not start, given that he mainly plays in Daigo's position, but hopes are high that the diminutive Uchida can be a key player.




Tomoya Uchida


28. Kohei Tokita - 土岐田 洸平 - 16 Mar 1986 - 176cm / 72kg - NEW

Perhaps the most exciting of the batch of ex-university and high school players that Omiya have snapped up, Tokita is a goalscoring midfielder who as a youngster turned out for Mitsubishi Yowa before going on to attend Hosei University. As such, he's typical of the sort of squad member that Ardija fans want to see and that the club more broadly need to be a success. The Squirrels need some dynimism and Tokita off the bench might be the man to provide it.




Kohei Tokita


32. Yoshiyuki Kobayashi - 小林 慶行 - 27 Jan 1978 - 178cm / 71kg

After a patchy frst season at Omiya in 2006, Yoshiyuki Kobayashi was one of the rare success stories of last season and he goes in to 2008 as Yasuhiro Higuchi's captain. A lynchpin in midfield who worked hard to get forward whenever possible, he stunned into silence a Saitama Stadium packed with Urawa Reds fans with a calmly taken finish that exemplified his controlled, thoughtful approach. Yoshiyuki is now a key player and needs to take on the role of leader with which his predecessor as skipper, Chikara Fujimoto, seemed so uncomfortable.




Yoshiyuki Kobayashi


34. Takuya Aoki - 青木 拓矢 - 16 Sep 1989 - 179cm / 72kg - NEW

Just eighteen and the youngest of Omiya's new squad members. Aoki spent part of his winter in Qatar, driving the Japan U19 international side to victory over the likes of Poland and Germany. Some Squirrels supporters are already talking of the Gunma boy as potentially Ardija's first real star player and while it's probably unlikely that he'll get many first team starts this year, the expectation is that Aoki can bring much to the team.


Takuya Aoki
【2008/03/04 02:15】 2008 Player Profiles | TRACKBACK(0) | COMMENT(0)
2008 Player Profiles - Defenders
2. Taishi Tsukamoto - 塚本 泰史 - 04 Jul 1985 - 177cm / 68kg - NEW

Local lad who attended Urawa Higashi High School. Highly-rated rookie defender who has signed for the Squirrels from Komazawa University, where he played mainly on the right-hand side. This means he's likely to be in competition with both Takuro Nishimura and Terukazu Tanaka, so it's perhaps unlikely that he will see many first-team starts. Could also fill in for Yasuhiro Hato on the left if needs be.




Taishi Tsukamoto


3. Leandro - レアンドロ - 18 Aug 1981 - 187cm / 83kg

Came to Omiya from Brazil a year ago to replace the departed Squirrels legend Toninho in the middle of the back four. Took a little time to adapt, but ended up slotting into the line-up alongside Daisuke Tomita as the backbone of Robert Verbeek's ultra-defensive side. Didn't score as many goals as Toninho, but his sensational bursts out of defence arguably saved Ardija from relegation, as Leandro chipped in with a vital assist in the defeat of Urawa and his never-to-be-forgotten winner at FC Tokyo.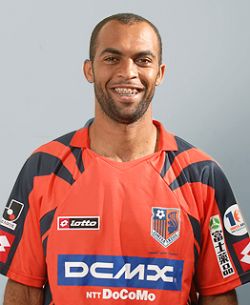 Leandro


4. Yasuhiro Hato - 波戸 康広. - 04 May 1976 - 178cm / 72kg

One-time Japanese international left-back who arrived from Kashiwa two years ago, although has picked up most of his experience with Marinos. There was talk during the close season of a transfer to Tokyo Verdy and most Squirrels fans would probably have been happy enough if Hato had moved - his commitment to the Ardija cause has generally seemed less than stellar, although he's been a regular ever since he joined Omiya.




Yasuhiro Hato


5. Daisuke Tomita - 冨田 大介 - 24 Apr 1977 - 180cm / 70kg

Not one of the stars of the team but Tomita has quietly picked up bags of experience with Mito Hollyhock and is now starting his fifth season with Ardija. Can play anywhere in defence and was previously left back, but in 2007 he formed a partnership in the middle with Leandro that was as responsible as any part of the team for keeping Omiya up. Difficult to imagine that this arrangement won't continue despite the arrival of Yasuhiro Higuchi as coach.




Daisuke Tomita


18. Takuro Nishimura - 西村 卓朗 - 15 Aug 1977 - 176cm / 68kg

Defender / midfielder who was first-choice right-back for most of 2007, although Terukazu Tanaka and later loan signing Yusuke Murayama on occasions kept Nishimura out of the starting line-up. Two sendings-off in crucial games towards the end of the season seemed to sour the former Urawa man's relationship with the fans and it was something of a surprise to see him kept on for another season. The number of alternatives available to Higuchi means that Nishimura will have to be at his best to keep ahead of the pack in 2008.




Takuro Nishimura


19. Yusuke Murayama - 村山 祐介 - 10 Jun 1981 - 180cm / 70kg

Utility defender signed by Satoru Sakuma under somewhat mysterious circumstances in mid-August 07 on a loan deal that was made permanent in the close season. Despite having been a player who was finding it hard to win a place in Shonan Bellmare's line-up, Murayama brought an assured presence and no little quality to the back four, either in the middle or on the right-hand side, from which he contributed a key assist in the win at Yokohama FC. A lively presence in the dressing room and a good squad player.




Yusuke Murayama


22. Terukazu Tanaka - 田中 輝和 - 14 Jul 1985 - 172cm / 66kg

One of the great enigmas of the Omiya Ardija squad, Tanaka famously appeared at international level for Japan U21 before having seen any first-team action at Omiya. Takuro Nishimura's patchy form during 2007 meant that he finally was selected by Robert Verbeek, but in all honestly didn't seem a better option. Unless Higuchi has notably different ideas, Tanaka seems destined to spend the majority of 2008 on the bench and it could be argued that a loan to a J2 side may have been more beneficial to his stalling career.




Terukazu Tanaka


26. Daiki Niwa - 丹羽 大輝 - 16 Jan 1986 - 180cm / 76kg - NEW LEFT 26 AUG 08 ON LOAN TO AVISPA FUKUOKA UNTIL 31 JAN 09

From Osaka and a player who came up through Gamba's youth system, Niwa made his J-League bow on a season-long loan at Tokushima Vortis. He emerged as a local star in the heart of the defence for the J2 minnows, one of the few bright spots in a difficult campaign during which he was almost an ever-present. Looks set to be the first reserve central defender behind Leandro and Daisuke Tomita.




Daiki Niwa


29. Tatsuya Kawahara - 川原 達也 - 16 Dec 1985 - 183cm / 79kg - NEW

Strong and commanding rookie central defender, has spent the last three years at Toyo University after having developed within Kashima Antlers' youth set-up.


Tatsuya Kawahara
【2008/02/22 22:33】 2008 Player Profiles | TRACKBACK(0) | COMMENT(0)
2008 Player Profiles - Goalkeepers
1. Hiroki Aratani - 荒谷 弘樹 - 06 Aug 1975 - 192cm / 82kg

After never especially impressing since becoming Ardija's first choice keeper midway through 2004, last year was a mixed bag indeed for the former Urawa Reds and Kawasaki Frontale man. Confident and authoritative from the start of the campaign, Aratani was a definite highlight in a grim time under coach Robert Verbeek, only to break his arm against Yokohama F Marinos in June. This ended up ruling him out for the rest of the year and there must be question marks over whether he can regain the first team slot.




Hiroki Aratani


20. Nobuhisa Kobayashi - 小林 庸尚 - 11 Apr 1983 - 186cm / 82kg

Squad player who signed for Omiya alongside Ezumi two years ago following graduation from International Budo University in Chiba prefecture. Has since been restricted to run-outs in the reserves and was released at the end of the 2006. Re-signed when Satoru Sakuma realised he didn't have enough keepers and the other choice, Tomoyasu Ando, had opted to retire, but Kobayashi still didn't see any first team action in 2007.




Nobuhisa Kobayashi


21. Koji Ezumi - 江角 浩司 - 18 Dec 1978 - 191cm / 84kg

Picked up a small amount of first team experience with Oita before moving to Saitama two years ago. Spent most of 2006 on the subs' bench behind Aratani, whose injury then gave Ezumi the opportunity to take over between the posts. A very shaky start had Squirrels fans panicking, but he grew in confidence and can take a lot of the credit for the 1-0 defeat of Urawa that ultimately turned Omiya's season around. Remains to be seen whether he'll be first choice for 2008 now that Aratani is fit again.




Koji Ezumi


31. Keiki Shimizu - 清水 慶記 - 10 Dec 1985 - 183cm / 75kg - NEW

New signing from JFL side Ryutsu Keizai University and almost certainly fourth-choice keeper behind Kobayashi.


Keiki Shimizu
【2008/02/15 21:58】 2008 Player Profiles | TRACKBACK(0) | COMMENT(4)
| BLOG TOP |