Omiya Ardija 2006 Squad - Forwards
9. Kota Yoshihara - 02 Feb 1978 - 170cm / 66kg - NEW

Former international and a consistent scorer with Sapporo and Gamba, found himself squeezed out during the latter's title year in 2005 due to the success of Araujo and Masashi Oguro. Omiya's offer gives Kota Yoshihara the chance to put last year's personal frustration behind him - and although he may need time to regain his confidence, it's likely that Kota will be a first-teamer alongside Saul Martinez.




Kota Yoshihara


10. Saul Martinez - 29 Jan 1976 - 173cm / 70kg - NEW

Last year, Omiya looked to big Brazilian Christian for goals as their main close season signing; in 2006, it's the diminutive figure of Honduras international Martinez Squirrels fans hope can provide the answer to the team's scoring problem. Joins Ardija after three years in China with Shanghai Shenhua. Lightning quick and his small build suggests a new tactical approach from Toshiya Miura.




Saul Martinez


14. Hiroshi Morita - 18 May 1978 - 188cm / 78kg

Hiroshi Morita's loan from Niigata was made permanent in the winter. Since originally coming to Omiya during the 2004 season has scored some vital goals, but it's questionable if he has the class to be a consistent success in J1 - he also gets frustratingly few goals with his head for such a tall man. Last year appeared mainly as a substitute and is likely to spend the majority of 2006 on the bench as well.




Hiroshi Morita


27. Manabu Wakabayashi - 03 Jun 1979 - 188cm / 77kg

Halfway through 2005 made the step up to Omiya from JFL side Tochigi SC. Was top scorer in Japan's third tier at the time and quickly made an impact with Ardija, getting the winner in an Emperor's Cup tie against Kyoto. Partnered Leandro towards the end of the season and didn't score again, but Manabu Wakabayashi has an eye for goal and offers something different to the Ardija squad.




Manabu Wakabayashi


30. Naoto Sakurai - 02 Sep 1975 - 170cm / 65kg

Brought from Verdy a year ago, like Chikara Fujimoto to offer some top flight experience to the J1 rookie Squirrels. An immediate hit, scoring the 2005 opener to set up a win at Gamba, the pacey Naoto Sakurai went on to have an injury-affected season that restricted his contribution. Tends to shine in bigger games, but conversely can go missing when Ardija's under-pressure defence need reliable attacking outlets.




Naoto Sakurai


To read the GGOA profiles of the rest of the 2006 Ardija squad, click here for the goalkeepers, here for the defenders and here for the midfielders.


スポンサーサイト
【2006/03/12 08:01】 2006 Player Profiles | TRACKBACK(0) | COMMENT(0)
Omiya Ardija 2006 Squad - Midfielders
6. Jun Marques Davidson - 07 Jun 1986 - 186cm / 75kg

Half-Japanese half -American defensive midfielder. Debuted in 2003 by made a place in the first team his own last season. His start to 2005 was so impressively assured that there was even talk of possible international recognition, but Jun Marques Davidson seemed to fade as the campaign went on and the number of suspensions mounted up. Under pressure as a starting member following the arrival of Naoya Saeki and Yoshiyuki Kobayashi, this is the biggest season if his short career so far.




Jun Marques Davidson


7. Naoya Saeki - 18 Dec 1977 - 173cm / 66kg - NEW

One of the few bright spots in Kobe's dismal 2005 relegation season, Saeki is a thoughtful, creative defensive midfield player. Effective at breaking down opposition moves and looking to set up attacks with neat passing skills. Has impressed in pre-season and will add depth to the squad. In contention for a central spot with Marques and fellow new boy Yoshiyuki Kobayashi.




Naoya Saeki


8. Daigo Kobayashi - 19 Feb 1983 - 178cm / 70kg - NEW

Broke the hearts of Verdy fans when he opted to join Ardija following the Greens' relegation at the end of 2005. Former U21 international and something of a pin-up boy, it seems as if Daigo Kobayashi will be a crucial addition to Toshiya Miura's squad. Attacking midfielder always seeking to make the pinpoint killer pass, will vie with Chikara Fujimoto to take charge at set pieces. Tatsunori Hisanaga looks as though he may be the one to lose out long-term after his arrival.




Daigo Kobayashi


11. Chikara Fujimoto - 31 Oct 1977 - 168cm / 68kg

A key signing twelve months ago, Fujimoto moved from Kobe to bring flair and experience to Omiya's novice J1 team. Previously seemed to be somewhat drifting in his career, Chikara seized the opportunity offered by Miura to have his most successful campaign to date as a left-sided playmaker. Quick-thinking and with an accurate pass, while Fujimoto is undoubtedly one of the Squirrels' most important players, some fans nevertheless feel he could achieve more in terms of end product.




Chikara Fujimoto


15. Masato Saito - 01 Dec 1975 - 172cm / 65kg

Hard to imagine an Omiya squad without Masato Saito, with the club as an amateur since the JFL days of 1998 and still technically an NTT employee. Calm, reliable and a notably intelligent footballer, he may not have the profile of other squad members but can be counted on to do a composed job in the centre of midfield or the back four. Will doubtless make a good number of appearances from the subs' bench throughout the season.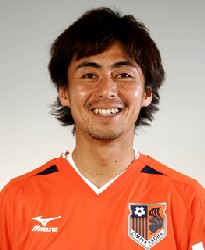 Masato Saito


16. Tatsunori Hisanaga - 23 Dec 1977 - 171cm / 64kg

Versatile player who over the last two seasons has appeared mainly on the right, although can also play a more defensive role in the middle of midfield. Miura opted to extend Hisanaga's loan deal from Fukuoka for 2006, apparently keen to retain someone he regards as a reliable operator. But he has rarely provided the attacking threat of Fujimoto on the other flank and his first-team opportunities will surely be limited following the strengthening of the midfield in the close season.




Tatsunori Hisanaga


24. Hayato Hashimoto - 15 Sep 1981 - 175cm / 63kg

Further squad player, now one of the youngest members of a distinctly mature Squirrels first team set-up. Attacking midfielder with one J1 appearance to his name, but retained for a third season despite the departure of comparable players who some fans felt had more to offer, such as Yusuke Shimada and Shota Suzuki. Injuires to other players may yet see Hayato Hashimoto have more of an opportunity to make an impact.




Hayato Hashimoto


32. Yoshiyuki Kobayashi - 27 Jan 1978 - 178cm / 71kg - NEW

Another potentially vital new signing for 2006. A Saitama boy and evidently keen to return to his roots following the relegation of Verdy, his hardworking willingness and versatility across the midfield give a further boost to the calibre of the squad, in an area of the pitch that was last year lacking in options and strength in depth.


Yoshiyuki Kobayashi
【2006/03/11 08:17】 2006 Player Profiles | TRACKBACK(0) | COMMENT(0)
Omiya Ardija 2006 Squad - Defenders
2. Seiichiro Okuno - 26 Jul 1974 - 181cm / 75kg

Now club captain, Seiichiro Okuno joined Omiya as the club entered the new J2 from the defunct Yokohama Flugels. A fixture in the Squirrels first team almost ever since, he nevertheless had a poor start to 2005, when it seemed as if he was conceding a penalty virtually every time he stepped onto the pitch. A genuine leader, he fought his way back to better form alongside Toninho in the heart of Ardija's defence.




Seiichiro Okuno


3. Kazuyoshi Mikami - 29 Aug 1975 - 180cm / 75kg

Journeyman J1 pro who generally plays on either side of the back four, in 2005 Kazuyoshi Mikami - newly-arrived from Oita - was used in the main as a reserve for Tomita on the left. Effective as an overlapping wingback with an accurate cross, but will probably feature less following the arrival of Yasuhiro Hato and Yukio Tsuchiya.




Kazuyoshi Mikami


4. Toninho - 21 Dec 1977 - 186cm / 79kg

Arguably Omiya's most important individual player and reputed to have turned down numerous lucrative offers from other J-League teams. Virtually ever-present having arrived at the club six years ago, with great physical presence and no little skill. Generally used alongside Okuno as a central defender, but has shone on occasions in defensive midfield roles and often contributes vital goals at set pieces.




Toninho


5. Daisuke Tomita - 24 Apr 1977 - 180cm / 70kg

Not one of the stars of the team but Daisuke Tomita has quietly picked up bags of experience with Mito Hollyhock and now starting his third season with Ardija. Can play anywhere in defence, but was mainly left-back in 2005, although his position this year is likely to be under threat from Tsuchiya.




Daisuke Tomita


13. Yasunari Hiraoka - 13 Mar 1972 - 185cm / 72kg

Fringe central defender who has often found himself on the subs' bench since transferring to Omiya from Nagoya before the 2004 season. The fact he's been retained despite having made only twenty appearances in two years can be seen as an indication of the value that coach Miura is placing upon experience over youth to aid the club's development - but how many first team opportunities Yasunari Hiraoka will have in 2006 will depend on injuries to other squad members.




Yasunari Hiraoka


17. Yukio Tsuchiya - 31 Jul 1974 - 177cm / 74kg - NEW

Controversial hard-man defender signed from Kashiwa, Tsuchiya last year earned the wrath of Urawa fans as a result of his horror tackle on rising star Tatsuya Tanaka. Possessor of one of the worst disciplinary records in the J-League, but Toshiya Miura will hope he can bring steal and experience to the Omiya back line. Is able to play anywhere in defence or central midfield, but most likely to replace Tomita on the left.




Yukio Tsuchiya


18. Takuro Nishimura - 15 Aug 1977 - 176cm / 68kg

Defender / midfielder whose versatility has probably ended up counting against him, in that the former Urawa man has failed to make himself indispensible in any specific position. Played mainly at right back in 2005, but also filled in as a defensive midfielder and will probably lose out to Hato in the first team. Responsible for one of the season highlights last year when against Oita he raced from the half-way line to crash in his fist ever J-League goal.




Takuro Nishimura


19. Yosuke Kataoka - 26 May 1982 - 179cm / 73kg

A rookie in 2005 having joined the club from Kokushikan University, Yosuke Kataoka put in a series of increasingly impressive performances when given an opportunity in the latter part of the season, capped with a stunning free-kick in the Emperor's Cup against Urawa. May not feature too often this year, but a promising squad member who will aim to take his chance when selected.




Yosuke Kataoka


22. Yasuhiro Hato - 04 May 1976 - 178cm / 72kg - NEW

One-time Japanese international right-back and another new arrival from Kashiwa, although has picked up most of experience with Marinos. Has an eye for attacking chances and good link-up play with team-mates further up the field. Will probably take first-team place ahead of Takuro Nishimura.




Yasuhiro Hato


25. Terukazu Tanaka - 14 Jul 1985 - 172cm / 66kg
26. Akira Ishigame - 20 May 1985 - 176cm / 65kg
28. Haruki Nishimura - 31 May 1987 - 182cm / 67kg - NEW

The Omiya defensive squad members are completed by Terukazu Tanaka, Akira Ishigame and rookie Haruki Nishimura, none of whom have made any first team appearances.


Terukazu Tanaka
Akira Ishigame
Haruki Nishimura
【2006/03/05 01:10】 2006 Player Profiles | TRACKBACK(0) | COMMENT(1)
Omiya Ardija 2006 Squad - Goalkeepers
1. Tomoyasu Ando - 23 May 1974 - 182cm / 73kg

Joined Omiya from Urawa for the 2002 season. Became first choice in 2004 but slipped back to reserve in mid-season as Toshiya Miura opted instead for Hiroki Aratani as main keeper. Played only a handful of games in 2005 and as such can be considered somewhat unlucky not to have been given more opportunities following some decent performances. Under further pressure following the arrival of Koji Ezumi and must be wondering if his future lies elsewhere.




Tomoyasu Ando


20. Hiroki Aratani - 06 Aug 1975 - 192cm / 82kg

Began with Urawa, moved to Ardija following a brief spell at Kawasaki. Replaced Tomoyasu Ando in the first team during 2004's promotion campaign and kept his place for 2005. Was generally solid, but losses of concentration undoubtedly cost Omiya points they could ill afford. Whether Aratani remains Squirrels' main net-minder throughout 2006 remains to be seen.




Hiroki Aratani


21. Koji Ezumi - 18 Dec 1978 - 191cm / 84kg - NEW

Picked up a small amount of first team experience with Oita; Ezumi's arrival at Omiya gives Miura a realistic third option as keeper. Aratani and Ando are likely to start ahead of him but know that Ezumi presents a threat that departed youngsters Takahiro Takagi and Kenji Tanaka did not. One to watch.




Koji Ezumi


31. Nobuhisa Kobayashi - 11 Apr 1983 - 186cm / 82kg - NEW

Young squad keeper, new to the club following graduation from International Budo University in Chiba prefecture. His name translates via Babelfish somewhat unfortunately as Kobayashi Mediocrity and as such he's not to be confused with new team-mates Kobayashi Large or Kobayashi Celebration.


Nobuhisa Kobayashi
【2006/03/01 22:25】 2006 Player Profiles | TRACKBACK(0) | COMMENT(1)
| BLOG TOP |