Omiya Ardija In Friendly Win
Omiya Ardija continued their pre-season warm-up in Miyazaki on Friday 18th February in impressive fashion with a 1-0 win over K-League giants Seongnam Ilhwa Chunma, who were ranked the second club side in Asia in 2004. It was some distance from being Chunma's full-strength side, but Omiya defended well and displayed their characteristic good organisation when under pressure. New signings Chikara Fujimoto and Naoto Sakurai also caused problems for the Korean back line, but the goal came just before the hour mark when Masahiro Ando crossed from the right-hand side and striker Hiroshi Morita was fouled as he challenged for the ball. Morita himself converted the resulting spot kick.


スポンサーサイト
【2005/02/19 07:34】 2005 Player Profiles | TRACKBACK(0) | COMMENT(0)
Introducing Omiya Ardija's Forwards


Over the last few days on Go! Go! Omiya Ardija, we've taken a look at the club's signings during the close season, the goalkeepers, defenders and midfielders. To round off the series of profiles, it's today the turn of the forwards to take centre stage alongside Christian [above] and Naoto Sakurai.




Squad no. 10 is Tuto [above], one of Omiya's three Brazilian players. Now 26, Tuto first came to Japan in 1998 and he immediately enjoyed two successful years with Kawasaki Frontale. In 2000 he stepped up to J1 with FC Tokyo and continued his good form, with seventeen goals in 29 matches. A two-year spell at Urawa Reds then followed before a move to Shimizu S-Pulse. Tuto then moved to Omiya during 2004. He's now scored 65 goals in 150 J-League games.




Also 26 is Hiroshi Morita and, like Tuto, he came to Omiya mid-way through the 2004 season. His pro career began with Sagan Tosu in J2 in 2001, where he scored 19 goals in two years before moving to Albirex Niigata. Morita's squad no. is 14 and his J-League stats read played 109, scored 34.




Satoshi Yokoyama has just turned 25 and has now spent all four years of his pro career with Omiya, despite the less-than-impressive scoring record of played 75, scored 11. His squad no. for 2005 will be 27.




The squad is made up by no. 26, the tiny Tomoya Osawa, who actually made his single J-League appearance at the end of 2003 a few days before his 19th birthday.

【2005/02/16 07:51】 2005 Player Profiles | TRACKBACK(0) | COMMENT(0)
Introducing Omiya Ardija's Midfielders


With Omiya Ardija announcing that midfielder Tetsuhiro Kina is leaving the club to join Avispa Fukuoka, it seems appropriate for Go! Go! Omiya Ardija to provide an overview of the club's squad for the forthcoming season - so who has Kina left behind to fight for the midfield berths?

Masahiro Ando [above] is, at 32 years of age, one of the most important and experienced members of the Omiya Ardija squad. Now in his third spell with the club, he's actually spent time with no fewer than seven different J-League teams, having started his professional career with Shimizu S-Pulse in 1995. Part way through the 1999 season he moved on to S-Pulse's local rivals Jubilo Iwata and since then has appeared for at least one other team every year, turning out for Yokohama F Marinos, Gamba Osaka, Vegalta Sendai and Kyoto Purple Sanga in between his return trips to Omiya. Ando's now played 267 J-League games and scored 14 goals. His squad no. is 8.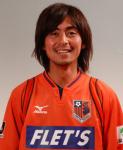 At 29, Masato Saito is more or less a one-club player, having moved to Omiya from university in 1998, their final season in the JFL. The only amateur member of the squad during 2004, he nevertheless missed only one game and has now played 191 J-League games, scoring ten goals. His squad no. is 15.




Tatsunori Hisanaga is about to begin his second season with Omiya in 2005, having slotted straight into the first team last year after a loan move from Avispa Fukuoka. Indeed, the 27-year-old has in fact spent almost all of his pro career with Avispa aside from a spell with Yokohama F Marinos in 2002. His squad no. will be 16, he's played 185 J-League games and scored twelve goals.




21-year-old Tokyo-born Jun Marques Davidson came into his own as a valuable squad member last season, appearing in more than a third of the team's J-League games and demonstrating considerable improvement in what was his third year with the club. It's questionable as to whether he'll make the push to being a regular, as competition for places will be tight, but Davidson definitely has a role to play for Omiya in 2005. His squad no. will be 6 and his J-League stats now read played 24, scored one.




A product of the Omiya Ardija youth system and a local boy, Shin Kanazawa is 21 and one of the younger members of the team, having become a regular performer for the first XI in 2004. He originally made an impact in his first year as a squad member in 2002, when he managed to appear in 28 games. He'll have the no. 7 shirt and has so far played an unusually high total of 76 J-League games, scoring five goals.




Another locally-born player, Yusuke Shimada is already at 23 looking ahead to his sixth season at the club. he made his debut as a 19-year-old at the end of 2001, but over the last couple of years has become more established. He has now scored five goals in 54 J-League appearances and will take squad no. 17.




The fringe squad players are 23-year-old Hayato Hashimoto (squad no. 24, top), who moved to Omiya from university before the 2004 season but saw no first-team action; and Shota Suzuki, 20,(squad no. 23, bottom), who made his debut in 2003 as an eighteen-year-old but did not figure last year.

【2005/02/11 08:37】 2005 Player Profiles | TRACKBACK(0) | COMMENT(0)
Introducing Omiya Ardija's Defenders


After taking a look at Omiya Ardija's goalkeepers, it's time to introduce the club's defenders, starting with an ever-present from last season, Seiichiro Okuno. A 29-year-old central defender, Okuno has been a rock at the heart of Omiya's defence for six years and more - indeed, he signed for Ardija during 1998, the last the club played in the old JFL. As a youngster, he had earlier spent six years learning his trade with Yokohama Flugels. Number 2 in the squad, Okuno has played 246 J-League games and scored seven goals.




Okuno's partner in central defence for the last four years has been Toninho, a big 27-year-old from Brazil. Previously with Mirasol, Corinthians Paulista and Atletico Juventus in his home country, Toni moved to Omiya for the 2001 season and has been with the club ever since. His J-League stats are played 160, scored 11; his squad no. is 4.




The third reason for Omiya's settled defensive performances in 2004 is left-back Daisuke Tomita, who missed only one game throughout what was his first season in Saitama. Transferred from fellow J2 side Mito Hollyhock, 27-year-old Tomita spent four years as a regular starting member of their side, having moved from his university team prior to the 2000 season. In only five years as a pro, his J-League stats read played 189, scored 13. His squad no. will be 5.




Another graduate of the Kokushikan University side, it seems possible that Takuro Nishimura will start the season as first-choice right back for Omiya. After finishing university, he spent three-and-a-half years with Urawa Reds without making a breakthrough into the first team, before moving to Omiya during 2004. The 27-year-old will take squad no. 18, and he's played fifteen J-League games without scoring a goal.




He with the smart hairstyle, Yasunari Hiraoka will turn 33 just after the start of the season. A journeyman defender, he started his career with Otsuka Pharmaceuticals / Tokushima Vortis in the JFL before moving into the professional game proper with Kyoto Purple Sanga in 1997. Oita was his next destination for two years in J2 and then Hiraoka spent four years as a squad player at Nagoya Grampus 8. 2005 will be his second season with Omiya, where his squad no, is 13. He's scored three times in 118 J-League games.




Younger members of the squad hoping to make their J-League debuts are Terukazu Tanaka [top], squad no. 25, a 19-year-old who joined Omiya from high school; cheeky-faced young scamp Masateru Tsujita [middle], 20 years old and squad no. 28; and Akira Ishigame [bottom], also 20, squad no. 29.

【2005/02/08 07:58】 2005 Player Profiles | TRACKBACK(0) | COMMENT(0)
Introducing Omiya Ardija's Goalkeepers
Following Go! Go! Omiya Ardija's coverage of the arrival of Christian and an introduction of the club's four new Japanese players, the next few days will see further pieces on the blog to introduce the whole squad to new fans and a wider audience. Today it's the turn of the four goalkeepers:




Hiroki Aratani is 29 and after a career spent seemingly on the sidelines, he burst on to the scene to become Omiya's first choice keeper during last season. On leaving school, he joined Urawa Reds but was unable to make a real impression there in four years and so opted to drop down to the JFL and join Kawasaki Frontale in 1998. Omiya then signed the 192cm tall Aratani the following year and he eventually made his debut in the 2002 season. He's gone to play 39 J-League games and has a squad number of 20.




29-year-old Tomoyasu Ando is Omiya Ardija's second-choice goalkeeper. A native of Shizuoka prefecture, he played for his local college side before signing for Urawa Reds in 1997 and making his J-League debut during a short spell that same year with Avispa Fukuoka. He then spent five years as a squad player with Urawa, moving the short distance to Omiya in 2002 to pick up more first-team experience. He's now played 70 J-League games and his squad number is 1.




The club's two young reserve keepers are 22-year-old Takahiro Takagi (above; squad no. 21) and 21-year-old Kenji Tanaka (squad no. 22). Takagi joined JEF United as a teenager and then signed for ambitious regional league side Thespa Kusatsu during 2003, before joining Omiya at the start of 2004. Tanaka moved to Omiya at a similar time and neither have yet made an appearance for the first team.

【2005/02/07 01:51】 2005 Player Profiles | TRACKBACK(0) | COMMENT(0)
Introducing Omiya Ardija's Four New Japanese Players


Local boy Naoto Sakurai is a useful 29-year-old forward with good close control and passing ability who's signed for Omiya from Tokyo Verdy 1969. He began his career with Urawa Reds and made his J-League debut in 1995, making only occasional appearances before moving to Verdy Kawasaki during the 1999 season. Staying with Verdy following the move to Tokyo prior to the 2001 campaign, Sakurai became more of a regular but has ultimately found himself squeezed out of the starting line-up. His career J-League record is 136 games played with 23 goals scored, and he'll take squad no. 30.




Yosuke Kataoka has moved from Kokushikan University in the JFL, a 22-year-old defender yet to make his J-League debut. His squad no. is 19.




Chikara Fujimoto is an attacking midfield player, now aged 27, who made one appearance for the national team as a substitute under Philippe Troussier. He spent 2004 on loan at Vissel Kobe from Nagoya Grampus 8, having previously played for four years at Sanfrecce Hiroshima. His career started in 1996 with Avispa Fukuoka and his J-League figures read played 195, scored 29. Fujimoto will take squad no. 11.




Kazuyoshi Mikami, now 29, has experienced an erratic career and his move to Omiya sees him sign on the dotted line for a sixth club. He turned out most frequently just after turning pro in 1998 with Vissel Kobe and then with Verdy Kawasaki, before moving on to JEF United and Yokohama F Marinos. Mikami has played 115 J-League games and scored a single goal. His squad no. will be 3.

【2005/02/04 07:35】 2005 Player Profiles | TRACKBACK(0) | COMMENT(0)
| BLOG TOP |