Countdown To The End Of The Year
Three games to go now and with every J-League blog doing this sort of thing, there is clearly a bandwagon worth jumping on. GGOA's take on who is most likely to end up alongside Consadole Sapporo in J2 or in the play-off place is based less upon the mere detail of the opposition thrown up by the fixture list and more upon who is looking like a form team. Almost by definition that means pretty much no-one - this is the bottom of the table we're talking about - but some bad runs are worse than other bad runs.

This being the case, Jubilo Iwata perhaps have enough momentum to gather the required number of points. Albirex Niigata don't score many, but have nevertheless tightened their defence and can perhaps expect to draw some or all of their remaining games. With their rather surprising win at Yokohama F Marinos, Kyoto Sanga stopped the rot and it is hard to imagine a team with 40 points finishing in the bottom three.

Similarly Marinos will be confident that they can at least beat a Tokyo Verdy side looking low on confidence and unsure where their next goal is coming from. The home game with Consadole is absolutely crucial for the Green Machine and if they don't win that it's looking like sayonara. JEF United had appeared to have fought their way out of the drop zone, but two points in three games combined with wins for their rivals mean they're right back in in again.

11. Kyoto 40 (-6) Last six games: LDLLDW

H v Nagoya
A v Omiya
H v S-Pulse

12. Marinos 39 (+1) DWDDWL

A v JEF
H v Verdy
A v Urawa

13. Omiya 38 (-10) LLLLWW

A v Niigata
H v Kyoto
A v Jubilo

14. Niigata 38 (-14) WLDDLD

H v Omiya
A v FC Tokyo
H v Gamba

15. Jubilo 36 (-6) LWWLDW

H v Kashiwa
A v Kashima
H v Omiya

16. Verdy 36 (-8) LLDWDL

H v Sapporo
A v Marinos
H v Kawasaki

17. JEF 35 (-15) WWWDLD

H v Marinos
A v S-Pulse
H v FC Tokyo


スポンサーサイト
【2008/11/10 02:14】 The Squirrel's Eye View | TRACKBACK(0) | COMMENT(1)
Stats Support Higuchi's Squirrels
Two-thirds of the way through the J1 campaign and there's just time here at GGOA Towers to take a quick look at some statistics to compare the Squirrels' performance this season with their three previous years in the top flight. In fact, 2008 is proving to be Ardija's best showing to date in terms of points accrued and position in the standings.

With three wins in the last four matches, Yasuhiro Higuchi's team have given themselves an excellent chance of avoiding the relegation zone, the addition of Klemen Lavric adding an extra dimension to the squad at a crucial time.

The current standings would seem to suggest that it may be that a side scoring as many as 38 or even 40 points may yet end up in 16th position. But with only eleven matches remaining, Omiya are on course for the top ten finish that was set as a target for Higuchi at the start of the year.

2005

After 23 games

Pos 12th

W 8
D 4
L 11
F 28
A 36
GD -8
Pts 28

Final table

13. Omiya 41 (-11)
...
15. S-Pulse 39 (-9)
- - - - - - - - - - - -
16. Kashiwa 35 (-15)
--------------------
17. Verdy 30 (-33)
18. Kobe 21 (-37)


2006

After 23 games

Pos 10th

W 9
D 3
L 11
F 30
A 39
GD -9
Pts 30

Final table

12. Omiya 44 (-12)
...
15. Kofu 42 (-22)
- - - - - - - - - - - -
16. Fukuoka 27 (-24)
--------------------
17. Cerezo 27 (-26)
18. Kyoto 22 (-36)


2007

After 23 games

Pos 17th

W 3
D 9
L 11
F 15
A 32
GD -17
Pts 18

Final table

15. Omiya 35 (-16)
- - - - - - - - - - - -
16. Hiroshima 32 (-27)
--------------------
17. Kofu 27 (-32)
18. Yokohama FC 16 (-47)


2008

After 23 games

Pos 9th

W 9
D 5
L 9
F 27
A 27
GD -
Pts 32

【2008/08/30 02:07】 The Squirrel's Eye View | TRACKBACK(0) | COMMENT(4)
Tactic Toe
Very interesting article about the development of tactics on The Guardian website, here. How would Ardija function playing a 4-6-0 formation - or did they try and fail exactly that last season?

【2008/06/17 20:46】 The Squirrel's Eye View | TRACKBACK(0) | COMMENT(3)
Home And Away
GGOA has been doing some statistical browsing through the Squirrels' recent results, an initially unpromising activity which has revealed an interesting fact - that it's the team's poor home form that has in recent weeks prevented them from moving away from the bottom of the table. The last half dozen home fixtures have yielded just a single point for Ardija, when Denis Marques' spectacular long-range shot gained a draw with Kashiwa Reysol at the end of August.

Other than that, however, games at Komaba and Kumagaya have been a consistent disaster area for the men in orange, as Gamba Osaka swamped them at the end of June; the two mid-August clashes with Vissel Kobe and Kashima Antlers were awful - and so were the recent encounters with Jubilo Iwata and JEF United. Away from home, though, and things start to look a little healthier. Most recently of course comes the 2-0 triumph over Yokohama F Marinos on Saturday - but ironically the outstanding result of the year took place in an "away" game against local rivals and champions-elect Urawa Reds, beaten 1-0 at Saitama Stadium thanks to Hiroshi Morita's delicious finish.

The low-point of 2007 was the humiliation of a 5-0 drubbing at the hands of a weakened Nagoya Grampus 8 side, but prior to that the Squirrels had on their travels picked up useful and hard-fought points at Shimizu S-Pulse, Jubilo and Kashiwa. So if an improvement is to be made it needs to be at home, with the last Squirrels game to be staged at Komaba first on the list - against Omiya's bogey team Sanfrecce Hiroshima.

Last Six Home Games

30 Jun v Gamba 0-3
15 Aug v Kobe 1-3
19 Aug v Kashima 1-2
29 Aug v Kashiwa 1-1
15 Sep v Jubilo 0-2
22 Sep v JEF 0-1

Last Six Away Games

09 Jun v Kashiwa 0-0
20 Jun v Jubilo 0-0
11 Aug v S-Pulse 2-2
25 Aug v Nagoya 0-5
01 Sep v Urawa 1-0
29 Sep v Marinos 2-0

【2007/10/01 21:25】 The Squirrel's Eye View | TRACKBACK(0) | COMMENT(2)
Chikara Defends Playing Style
Squirrels midfielder Chikara Fujimoto has written controversially and extensively on his blog to defend the team's continued use of counter-attacking football, in spite of the poor results achieved throughout the season and particularly in recent weeks. Fujimoto describes how, following Saturday's 1-0 home defeat to JEF United, he was asked by a reporter why Omiya were apparently unable or unwilling to modify their tactical approach, even when the visitors had taken the lead just after the half-hour mark.

His response was effectively that a team should be able to use a consistent style of play throughout a match, only resorting to change in the last few minutes if necessary. Furthermore, the Ardija captain went on to say that the players as a group felt that the established ideal Omiya style of solid defence and counter-attacking play was the best way to achieve results in the remainder of the season. This is of course a view that ties in with the football that the Squirrels have played since Fujimoto arrived at the club prior to their first-ever J1 campaign in 2005.

That year and in 2006, however, coach Toshiya Miura's teams appeared to have just enough creativity and movement to take the pressure off the defence and to create sufficient chances. The players who were key to making that system work were the wide midfielders, whose job it is in a counter-attacking team to exploit space left by an opponent that is pressing forward. Ironically, in 2005 that chiefly meant Fujimoto himself, with Daigo Kobayashi and then later Hayato Hashimoto coming onto the scene last season.

Following the departure of Miura, under Robert Verbeek and Satoru Sakuma it is precisely those players - along with midfield lynchpin Yosuke Kataoka - who have underperformed so much in 2007. Daigo has admittedly had an injury-hit year, but even when fit has been far less effective than the man who at the start of his Ardija career seemed to contribute an assist or a goal every week. While Hashimoto has been in and out of the team, he too has notably failed to build upon the series of promising contributions which he made in the final two months of 2006.

But the uncomfortable reality is that it is arguably captain Chikara who has been the least effective of the trio. A single assist against Nagoya Grampus 8 and a penalty in the home defeat by Ventforet Kofu are an extremely disappointing return for a player who remains a first-team regular. As such, in the light of the team's position in the J1 standings with just eight matches remaining, Fujimoto's defence of the current system begs the question whether his team-mates are actually able to execute that style of play to the required standard. Alternatively, many Squirrels fans are now wondering if he himself should take responsibility for his potentially fatally poor performances this year and step down to the substitutes' bench.

【2007/09/25 12:47】 The Squirrel's Eye View | TRACKBACK(0) | COMMENT(1)
Ardija Squad 2008? Pt 2
After this article on the goalkeepers last week, Steve here continues his look at the current Squirrels squad and tries to forecast what will happen to each of the players at the end of the season: will they stay or will they go? Who will be playing for Omiya Ardija in 2008? This time he focuses on the defenders.

Yasuhiro Hato - I hope he goes and maybe his ego and past reputation might encourage him and an unsuspecting J1 team to pick him up. He was one of the major Satoru Sakuma signings of 2006 and repaid his (speculative) big contract by being a non-factor in 2006 and a key goat in 2007. To be fair, the past couple of games have seen an upturn in form for the beleaguered defender and the fire he showed in getting in Urawa keeper Ryota Tsuzuki's face after he pushed Naoto Sakurai in the back shows that there is a glimmer of heart in the Grinch that stole Soccer for Omiya fans. Either way, the Ardija front office must see that he is not a good return for their money - but I say there's a 40% chance of Hato staying if Omiya remain in J1, 10% if they drop to J2.

Daisuke Tomita - After the recent downturn in his play, it's more likely he might stick around. Was arguably the team's best player under Robert Verbeek, so he might be gone as well. However, he does show a lot of flexibility along the back line. I imagine his price tag is a bit lower due to his under-the-radar status. I'm inclined to say it's more than likely he stays: 65%-35%.




Daisuke Tomita and some Reds guy

Leandro - Not much of a thinker... he has good skills but a bad mind. Is no Toninho, who arguably wasn't much of a thinker either - but Leandro definitely does have some untapped skills. The assist for Hiroshi Morita against Reds was a brilliant play of the type that he has failed to produce at any other time during the season. Leandro's on a one-year loan and I'm not sure really if he'll come back... it depends on how cheap he is. I'd say there's a 30% chance of him staying.

Takuro Nishimura - He is the type of player that will be at home in J2, which is probably his level of competence - whether it's with Omiya remains to be seen. Again to be fair, the team has settled in the back with the older Nishimura in the line-up. Can be maddening to watch at times and he's not my favourite player by a long shot, but when he reacts and plays instead of over-thinking he can be dangerous driving along the wing. 50-50 he stays or goes.

Terukazu Tanaka, Haruki Nishimura, Akira Ishigame - Young and cheap. Tanaka has had a fairly tough experience of being a full-time fringe first-teamer. The last four games were especially important in showing that he is a young man who has a way to go to becoming a solid J1 starter. Nishimura is a project who hasn't been featured. Ishigame is a question mark because of the awful pre-season injury that effectively ended his 2007 campaign and possibly his career. Tanaka 100% will stay, Nishimura 95%, Ishigame... no verdict.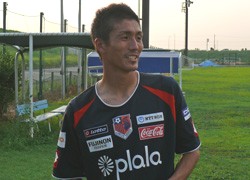 Yusuke Murayama ponders his future

Yusuke Murayama, Takashi Hirano - I think they were moves more geared for next year's drop... neither has what it takes for J1 and J2 seems more up their alley. The few moments I saw of both has me believing that Murayama is the one that has enough game to make an impact on future Omiya teams. Hirano looked dramatically over-matched in his brief spell against Kashiwa Reysol. Let's say Murayama is 50-50 depending on the rental / contract terms, whereas Hirano is unfortunately 65% staying... (maybe it's just rust).

Seiichiro Okuno, Yasunari Hiraoka - Two of the old veterans who have not really gotten any playing time at all this year. With the inclusion of youth team members in the satellite games, it looks like there is really no opportunity for the old war horses to get any action. Hiraoka was this close to getting the axe at the end of last season and Okuno has managed to get injured every time he has a shot at the first team. Okuno has a 30% chance of staying, Hiraoka 15% (unless he starts paying NTT - then it's probably 30%).

【2007/09/07 00:26】 The Squirrel's Eye View | TRACKBACK(0) | COMMENT(0)
Ardija Squad 2008? pt 1
Friend of GGOA Steve has been taking a look at the current Squirrels squad and trying to forecast what will happen to each of the players at the end of the season: will they stay or will they go? Who will be playing for Omiya next year? A short series of Squirrel's Eye View posts begins here with a run through the Ardija goalkeepers.

Hiroki Aratani - When one first looks at Aratani, you have to figure he'll definitely leave if the team drops to J2. He's approaching his golden years as a keeper (32-35) and he's conceded an average of less than a goal a game this year - which is better than more heralded players such as Seigo Narazaki or Eiji Kawashima. What makes his departure a greater possibility is the looming promotion of Consadole Sapporo and old boss Toshiya Miura, who has a stable of young keepers who could use a veteran presence.

But what might make it difficult for the domed one to leave is a history of nine years as a keeper for Omiya. He's a lifelong member of the Squirrel Nation and his family is settled in the area. There also is a huge issue with an arm that doesn't seem to want to heal, which might drive his market price down. I'd rate his chances of leaving at 50-50.... it's an age-old question of career vs heart.




Takahiro Takagi enjoys a good laugh

Koji Ezumi - Recent performances show that the big man is sorely lacking in the abilities required to be a J1 keeper. The jury is out, however, on whether or not he could be the guy to handle a J2 season. The positives to this kid are that he has size and is still relatively young-ish at 29. The downsides are too numerous to mention, but I will anyway: he has no mobility or response and his kicking is tragic. Should he leave? Absolutely. Will he leave? I'd say it's 70-30 that you'll see him in pale pink or baby blue next year.

Nobuhisa Kobayashi - The perfect J2 third choice keeper. He's not much of a challenge and can step in and make practice games interesting. The team tried to get rid of him once and probably will again. When you beg a club to let you come back and don't do much with the chance, that's a good sign that you aren't long for this career. 80% chance that he'll be out the door.

Kunihiro Shibasaki - Who knows what the young signing brings to the table? I imagine, though, that he will get another year to see if he's a player or not. Will he see playing time next year? I doubt it. Will he be a good guy to have in reserve? Likely. 90% staying.




Is it just me, or is Tatsuya Enomoto's hair really annoying?

And two more for good measure...

Takahiro Takagi - I highly doubt Miura will let the kid go from his loan spell at Sapporo without a fight, which is unfortunate because he looks like the perfect guy to lead Omiya back to J1 if the dreaded drop happens. There are two reasons why Consadole might not take him back for another year:

1. There are a plethora of fine pedigree young keepers at Sapporo, including Yuya Sato who is a tender 21 years of age

2. You could see Miura deciding on a more mature player to man the nets in J1. Miura is known for being risk-averse when it comes to J1 selection and this could be the case next year too

One possibility for Omiya might be a kind of swap involving Takagi and last year's #1 for Consadole, Takuto Hayashi. It also remains to be seen if Omiya still retain the rights to Takagi. I'd say it's 95% that he won't be back.

Kota Ogi - On the face of it, it looks like the 24-year-old Vissel Kobe man is here just for a short time. However, with Tatsuya Enomoto entrenched between the posts following his close-season move from Yokohama F Marinos, it seems like Kobe might be looking ahead to next year and developing the young lad with a few months of live fire at Omiya. It seems like departures from Vissel have been tailored to squads with little hope of being in J1: Atsuhiro Miura going to Yokohama FC is an obvious example, so don't be surprised if this move was made with next year in mind. 50-50 he stays.

【2007/08/31 18:17】 The Squirrel's Eye View | TRACKBACK(0) | COMMENT(5)
| BLOG TOP | 次のページ>>